NEW ALBUM
"Evolucija kroz tranziciju"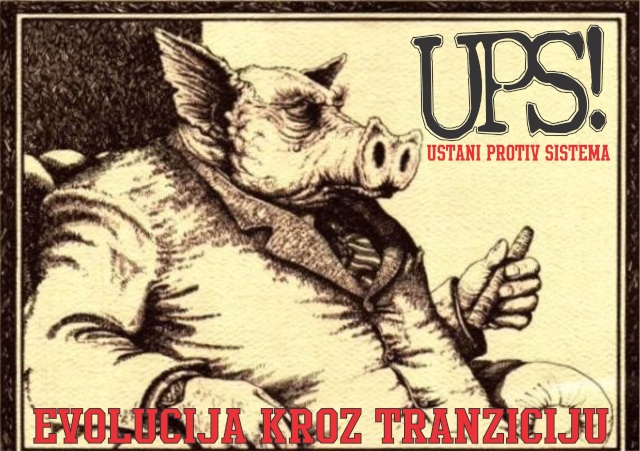 1. Priča o pankeru
2. 9 razloga (Zašto ne treba izaći na izbore)
3. Kapitalistmen
4. Profil glasača LDP-a
5. Boki ide u Grand
6. Ratko Mladic NIJE KUL!!!!
7. Plastična Hirurgija
8. Anti ratna pesma
9. Stanje sjebanih iluzija
10. Dosada
[You must be registered and logged in to see this link.]
O BENDU :
Bend UPS! nastao je u septembru 2006. godine.Cela prica pocinje 2005. godine, kada su se sadasnji bubnjar(Darko) i nekadasnji basista(Boki) sreli na jednoj od proba jednog petrovackog hardcore benda("Golubovi i kupus") gde je sadasnji pevac-basista UPS!-a(Mandow) tada svirao.Tada Darko dolazi na ideju da napravi punk bend!Boki i Darko tada zapocinju pripreme oko proba,pronalaze prostorije za vezbanje,krecu u nabavku instrumenata(naravno bez prebijenog dinara u dzepu ,stoga su instrumenti uvek bili tudji(sve do skora))…U medjuvremenu , za Darkove planove saznaje Mandow i prikljucuje se grupi, da bi se nakon vrlo kratkog vremenskog perioda bendu prikljucio i gitarista(Luka),njegovim dolaskom formira se bend pod nazivom "Barabe".
U pocetku bend pravi dosta svojih autorskih pesama, neke od njih bile su:"Dama","Prica o Pankeru","Nas glas","Piromanska himna" i mnoge druge…Od svih tih pesama ostala je samo "Prica o pankeru"!Tokom prve godine postojanja bend je takodje radio obrade mnogih punk i hardcore bendova.Zanimljiva prica benda UPS! jeste vezana za njihovu prvu svirku!!!UPS!(tadasnje "Barabe")svoju prvu svirku imali su ne u svom rodnom gradu, vec u Velikom Gradistu na jednoj od livada na samoj obali Dunava! Instrumenti su bili postavljeni na travi bez ikakve bine,dok je iza izvodjacke "scene" blejalo stado ovaca zajedno sa svojim pastirom koji je zbunjeno posmatrao gomilu klinaca koji prave buku! Ceo "hepening" je prosao sa dosta besne publike, a bend je imao nastup prave punk svirke!Kasnije su imali dosta svirki po Branicevskom okrugu i sire.
Na bend UPS! uticali su bendovi, kao sto su: Pennywise, Rancid,Bad Religion,NoFX,Bouncing Souls.... I naravno domaci bendovi (old school) poput nezaobilaznih Atheist-a(koji su im ujedno bili i uzori),Dza ili Bu-a,Goblina,itd.Muzicki ukus clanova benda bio je slican(brzina,melodija i dosta vokala(uglavnom se slusao pank i HC)),stoga se i muzika benda razvijala u pravcu "brzog i melodicnog" panka sa kratkim disharmonicnim hardcore deonicama...
Pocetkom 2007. godine clanovi benda UPS! dolaze do medjusobnog dogovora da promene naziv benda iz "Barabe" u "UPS!" sto bi znacilo Ustani Protiv Sistema!Celovitost benda trajala je sve do jula 2009. godine kada Boki odlucuje da napusti bend. Boki(basista) na "RIFF" Gitarijadi 09 u Petrovcu na Mlavi svira svoju oprostajnu svirku!U (ne)cast bivseg basiste, bend pravi numeru pod nazivom"Boki ide u GRAND"koja je postala lokalni hit nakon njegovog odlaska.Kroz svega nekoliko nedelja na njegovo mesto dolazi Misa(gitarista),gde bas gitaru(tek tada) preuzima sadasnji pevac-basista(Mandow) i bend nastavlja dalje sa svojim radom.U septembru 2009 godine ulaze u studio "Mr.Sound" u Petrovcu na Mlavi kod Ivana Radosavljevica i Igora Mihajlovica gde zapocinju snimanje svog prvog DEMO ALBUMA koji je zavrsen u Maju mesecu 2010. godine. Naravno pusten je free download!
2009. godine su bili pobednici na kvalifikacijama GBOB-a u Livingroom-u SKC u Beogradu i ucestvovali na nacionalnom finalu GBOB-a u velikoj sali SKC-a u Beogradu, gde su osvojili pocasno 11 mjesto od mogucih 15 finalista,s obzirom da su bili jedini pank bend od mogucih 70 i nesto bendova, koliko je ucestvovalo na kvalifikacijama GBOB CHALLENGE-a 2009 SERBIA. Od tada dosta su napredovali u Srbiji ,a i dobili dosta ponuda za nastupe u inostranstvu.
Skoro godinu dana nakon ulaska novog gitariste,(Misa) nazalost 2010.godine u avgustu mesecu napusta bend, na njegovoj zadnjoj svirci u Sremskoj Mitrovici,gde bend "UPS!" nakon toga nastvlja svoj rad kao trio. Posle kratke pauze od dva meseca,bend "UPS!" u oktobru 2010.godine odlazi na prvu cetvorodnevnu turneju u Sloveniju i Hrvatsku sa bendom "White Stain" iz Ljubljane,prvi put nastupa van svoje zemlje,sa dosta dobrim uspehom i sa novim iskustvom.Nakon toga bend "UPS!" u aprilu mesecu 2011 godine odlazi prvi put u Svajcarsku na HICKTOWN Festival VOl.4 gde nastupa sa bendovima iz Svajcarske,Austrije i Holandije i takodje prolazi sa velikim uspehom.
2011 godine nakon pet godina egzistiranja objavili debitantski album.Album naziva "Evolucija kroz tranziciju" sniman je u novosadskom studiju "Socijala Studios" tokom maja 2011 godine.
ENG:
UPS! was formed in September 2006. The story begins a year before , when the current drummer (Darko) and former bassist (Boki) met at one of the rehearsals of Petrovac hardcore band ("Pigeons and cabbage") at which,the current UPS! singer-bassist (Mandow) was played. Darko came up with idea to make a punk band. They start a preparations for a new formed band, finding room for rehearsals, instruments(were always someone elses) ... penniless of course

Meanwhile,Mandow and Luka(current guitarist) join so bend officialy start working under the name Barabe (Barabbas).
Initially, the band made a lot of songs "Dama"(Lady) ,"Priča o pankeru"(Story about punks),"Naš glas"(Our voice), "Piromanska himna"(Pyromaniac anthem) ... Of all the songs,only "Priča o pankeru" survuved. During the first year the band also covered a lot of punk and hardcore bands.
There is an urban legend about their first gig.It was in Veliko Gradište at one of the meadows nearly Danube shore. There were no stage, instruments has been settled on the grass and behind them bleat a flock of sheep along with his shepherd who confusedly watch a bunch of strange kids making a noise. In Early 2007. band cange its name to "UPS!" abbreviation for Ustani Protiv Sistema(Stand Up Against the System). Bend wholeness continue until July 2009. when Boki decide to leave the band. "RIFF" Gitarijada 09 in Petrovac na Mlavi was his farewell gig! In (dis)honor of him, band makes the song titled "Boki ide u Grand,"(Boki goes to Grand) which soon became a local hit. Singer Mandow took a bass (for the first time) and Miša (guitarist) joins. In September 2009 they entered the studio "Mr.Sound" in Petrovac na Mlavi where they start recording their first demo PROMO album(it's released a free download!).Also, in 2009. They were the winners of qualifications of GBOB Serbia contest and participated the national final at the great hall of SKC, Belgrade, where they won the honorary position 11 of the possible 15 finalists. They were the only punk band that reached the finals.
Since then, they received many offers to perform across Serbia and abroad. Nearly a year after entering Miša unfortunately left the band, after gig in Sremska Mitrovica, and the they proceed as a trio. In October 2010 they went to the first four days tour to Slovenia and Croatia with the band "White Stain" from Ljubljana. It was first performing outside Serbia, and it was wery successfull experience. UPS! are influenced by Pennywise, Rancid, Bad Religion, NoFX, Bouncing Souls, and of course the local bands inevitable Atheist Rap (our idols), Dža ili Bu, Goblini, etc. Theirtrademark is speed, melody and plenty of vocals, so they declare themself as melodic punk hardcore with a short harmonic sections.In april 2011. bend went to Swizerland to HICKTOWN Festival vol.4 and shared stage with similar bands from Austria, Netherlands. After five year of existening UPS finally release debut album ''Evolution through Transition''. Album was recorded in ''Sociala studios'' at Novi Sad during the maj 2011.
Members:
-Jovan Kostic (Mandow) - Vocal,bass guitar
-Darko Stojanovic (Dare) - Drums
-Luka Glasnovic (Luka) - rhythm guitar
[You must be registered and logged in to see this link.]
[You must be registered and logged in to see this link.]
[You must be registered and logged in to see this link.]
[You must be registered and logged in to see this link.]
[You must be registered and logged in to see this link.]
[You must be registered and logged in to see this link.]
[You must be registered and logged in to see this link.]
[You must be registered and logged in to see this link.]
[You must be registered and logged in to see this link.]
[You must be registered and logged in to see this link.]
LINK:
[You must be registered and logged in to see this link.]
[You must be registered and logged in to see this link.]
[You must be registered and logged in to see this link.]
[You must be registered and logged in to see this link.]
[You must be registered and logged in to see this link.]
Intervju :
[You must be registered and logged in to see this link.]
Contact-Booking UPS!:
Darko Stojanovic
Facebook:
[You must be registered and logged in to see this link.]
E-mail:
[You must be registered and logged in to see this link.]
Tel: +381642345736
Serbia